It's that time of year again. A chance to showcase our Christmas cards, probably one of my favorite things ever about the month of December.
We sadly decided to forgo the professional shots this year since we had so much happen and our own pictures to choose from but I'm already planning on booking
Becky Young
as early as possible for next year. Get ready Becky.
=)
I'm linking up with one of my
favorite bloggers
for her annual Christmas Card Carousel to show ours off.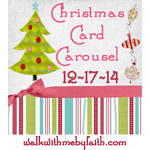 Feel free to join in so we can all cyber-stalk each other's!
201
4
And the back:
Happy
Holidays
from
our
family
to
yours
!!!
Past cards from:
2010
2011
2012
2013